If you plan to start a legal podcast because you love to engage and interview people or talk about current events in your field, go for it. As a former reporter, I loved interviewing people about their passions.
And if you take the basic steps to integrate it into your marketing plans – the impact will be favorable. It will significantly impact SERP (search engine result page). Moreover, it will impact the audience's perception of you being a thought leader in your industry.
But if you want to do a podcast to impact your marketing, do it only if you are willing to take on the work to make it happen. While the impact is positive, it is a big job to organize a weekly or monthly show and probably beyond anyone except the passionate. Furthermore, unless you have had previous podcasts or radio experience, you will need help driving the program to a professional level.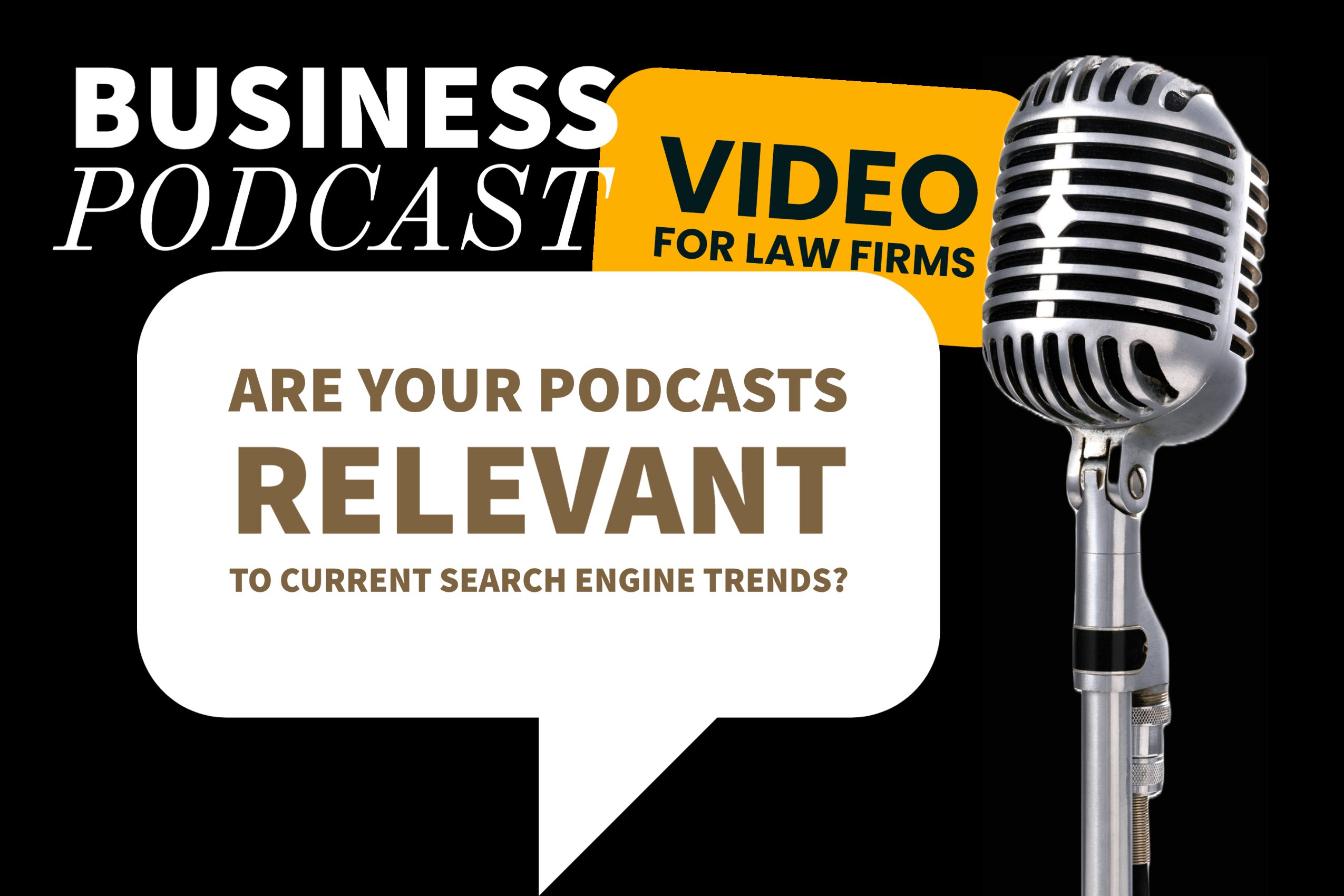 Podcasts
Podcasts are a fast-growing digital audio format that is taking the world by storm. In fact, according to the Global Podcasting Study, released in February 2019, there are now over 200 billion episodes of podcasts available!
The global podcasting market will expand at an annual rate of 31.1% from 2021 to 2028.
With so many people listening to podcasts and everyone from established media outlets like the CBC to niche blogs about law or marketing, it's clear that podcasting has taken off in a significant way.
Podcast Impact on your website's SEO
Even though every podcast discusses a specific subject, only some podcasters take advantage of relevant keywords or phrases the way they should.
Until recently, massive search engines didn't pay attention to recorded language, but Google's improving subtitling, transcription, and audio content indexing technology is changing that. As a result, Google can analyze podcast topics and keywords using audio, and many other software companies will soon follow suit.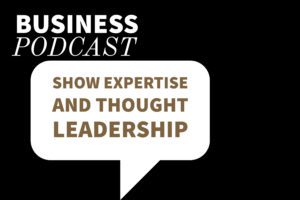 Your perception as a Thought leader
Developing your own podcast can create the perception that you are a thought leader in your field.
Of course, it takes more than just having your own podcast.
Authentic thought leadership, at the least, includes:
Data-driven insights and a kaleidoscopic knowledge of industry trends
Original insights about future challenges and how to prepare for them
The ability to communicate original findings in a compelling manner
It isn't very easy to make yourself into an authentic thought leader or organization. But a podcast is an excellent medium to establish it.
Use your knowledge base.
Where do you get compelling insights and ideas? Simple: the knowledge, experience, and expertise possessed by your leaders, employees, clients, and members.
A podcast featuring the people in your organization sharing insights and best practices has the advantage of helping to disseminate information and knowledge that could remain inaccessible. It will also make your people feel valued and appreciated.
Podcasting is a practical and effective way to diversify your communication strategy. It taps your community's hard-earned knowledge and experience. It will generate compelling, authentic content that, over time, will earn you and your organization the status of a true thought leader.
What niche will be the focus of your podcast?
Find a niche that reflects your expertise. Podcasting is not "broad" casting. It's narrow-casting, so you are looking for a small group of passionate people about your topic.
First, identify an audience. Don't think Joe Rogan or Adam Corolla. Instead, think about what people you serve may be interested in hearing. You can use keyword-finding tools to help you narrow the niche. You can use these to find what people are looking for. I use Keywords Everywhere, which will give you search volumes, how many people are asking those questions, for any term you put into a Google search. The inexpensive paid service will provide you with other similar words. SEO Minion will also provide you with the same information regarding but as questions.
Remind yourself this is business, not a vanity project. The goal is not to find a large but unengaged audience but true fans who will give your content priority,
Having a niche will make it easier to find weekly topics.
Content Calendar
Once you know the audience, you'll be able to develop a content strategy that addresses their needs. Think in terms of questions that you are asked or would be asked by your target audience. What issues do they
want to address what problems they need solutions for.
Then create a list and prioritize them. For example, the first five questions are the first five programs.
Define your format
Will it be primarily an interview show, do you solo talk about an issue each episode? Will it be a combination?
Be aware, or you will soon learn; it's not easy. Trained hosts know how to interview a guest or just "talk. Some people have a natural gift; others must learn through practice.
How Frequent
How often can you afford in terms of time to record? Can you do one episode per month? What about once a week? Whatever you choose, stick to it. It's a commitment to your audience!
30 minutes is a good starting point per episode, about the same time it takes to commute to the office
Each episode should be planned for a specific length, which should be adhered to. Be honest about the audience you're hoping to attract and the amount of time that person will be willing to spend listening to your podcast.
Invest in it like a brand
Treating a podcast like any other brand asset your company will put into the marketplace would be best. You must properly position and promote your podcast by paying attention to the basic branding techniques.
Choose a short, easy-to-pronounce, and visually appealing name.
Name your podcast in a way that makes it easy for listeners to find it.
Make sure your podcast is easily discoverable by searching on search engines. (Google and iTunes are the two most popular search engines.) For example, "podcast" should be searched on Google and iTunes.
You'll also want to create identity assets, such as a logo. Once you've determined a logo that conveys the objective of your podcast, use it across your podcast's thumbnails (Apple Podcasts, etc.) and a "cover photo" similar to your header image on LinkedIn or Facebook).
You've Only Just Begun
Congratulations on your first podcast!
Okay, that is too premature, but you have to recognize that you have just started, and there are other issues to deal with—specifically, promotion.
You have to take active steps to grow your audience in perpetuity. This includes activities like:
Publishing a podcast.
Promoting your podcast on social media and announcing new episodes as they go live.
Using your firm's existing marketing channels to gain attention for your content, such as a prominent position on your firm's homepage and regular notifications in firm emails and newsletters.
Seeking syndication opportunities. Remember that narrowly defined audience you identified earlier? If your content is targeted to a niche and genuinely provides subject matter expertise and insights, industry influencers might be willing to share or syndicate your podcast. It would help to look for content communities and trade media where your audience congregates.
Leveraging your podcast as a business development initiative. Looking to open a dialogue with a targeted prospect that's difficult to reach? Invite them to be a guest on your podcast. That's an invitation that's unlikely to go unanswered!
What equipment do you need to start podcasting?
Here are the most critical choices: microphone, headphones, recording software, audio interface or mixer, and camera (if recording video).
A microphone is required, of course. Microphones are available in a range of styles, including dynamic and condenser.
Headphones enable you to hear your recorded material while recording and provide a convenient way to monitor your recording.
Recording software or a digital audio workstation enables you to edit your recorded material and produce podcast episodes.
A microphone interface or mixer is an intermediary between your microphone and recording software.
You may prefer a camera instead of a computer when you're recording video.
A microphone arm stabilizes your microphone, and a shock mount prevents vibrations from causing camera motion.
Final Words: Wrapping Up
Launching a podcast is an exciting venture, but it also takes a lot of work. To make it successful, you need to plan and ensure you have everything you need for the launch. Once you have that down, your podcast will be off to the races. However, before you start officially broadcasting, there are a few areas to consider. They include the following:
What you'll host on a podcast
Decide what type of content you'll create, who you'll interview, and when you'll publish your episodes. Then, whatever you decide, make sure it meets the needs of your audience.
Your team
Remember your team members! Many podcasters hire transcribers or editors to help make the podcast easier to understand and sound better. Hiring a professional editor can help your podcast reach its full potential.
Mixing, mastering, and producing
You'll want to ensure your audio is as clean and professional as possible. If you have never mastered a podcast episode, it won't be as effective as it could be. And even if you are a pro, you should still take the time.
Your Community
You'll also want to consider how to promote your podcast within your network. Contact people who may be interested in what you're doing. Offer a fresh perspective on the same issue or news story from a different perspective.
Sources:
Podcasting Market Size, Share | Industry Report, 2021-2028. https://www.grandviewresearch.com/industry-analysis/podcast-market
https://www.buzzsprout.com/blog/how-to-start-a-podcast
Other Readings

Latest posts by Steven Hunt
(see all)