Documentary & Narrative Fiction
Video Productions
Past Redemption 2
The Coming Storm
Feature video production: 130 min.
A dead girl is tied to a haystack in an open field. Where did she come from? Who killed her and why?
It is the central mystery of Past Redemption 2 | The Coming Storm and reveals the sinister world of trafficking of young women.
Detectives from the town of Redemption are drawn into the dark underbelly of big-city street crime that has gone international.
8mm home movies shot more than 20 years ago become a spark that ignites a war that may lead to the final days of the powerful Wesley crime family. Dark, compelling, and engaging! The film drives down a road that takes us Past Redemption.
Streaming on or available from:
Momentu
Tubi
Amazon Prime
Two Trust
Short video production: 9:33
Dance
The arc of a relationship through dance.
Choreographer Cathy Kyle Fenton.
Dancers Amanda Bon and Sarah Hopkin.
Film produced by SDC Video Productions. Directed by Steven Hunt
Contact
Short video production: 9:30
Monster Pool Film Festival
Contact is a short film produced by SDC Video for the Ottawa-based Monster Pool Film Festival organized by local filmmakers.
Story
A young forensic researcher notices an inconsistency in the timecode from various live cameras near a crime scene. It leads to unexpected consequences.
Pyongyang
Music Video Production: 6:25 from Album Boomerang Kids
by Scary Bear Soundtrack
This music video was produced by SDC Video for Scary Bear Soundtrack for their album "boomerang kids" released on March 30, 2019
Puppets by Grant Harding
http://theabstractions.blogspot.com/p/workshops.html
The band's website can be found here
The Fifth Rail
Short video production: 3:00
Digi60 Film Festival
Set in the early 1920s, two homeless men steal a suitcase with unexpected rewards and international intrigue.
Sinnerman
Music Video Production: 3:54
The Nellotones
Album: Read Page Six
Sinnerman is an African American traditional spiritual song.
The lyrics describe a sinner attempting to hide from divine justice on Judgement Day.
The Nellotones is an Ottawa-based jazz/blues combo
Past Redemption 1
Web series: 9×10 min
Season 1:
Past Redemption is a character-driven series about survival in a small, impoverished town. The options are to be law-abiding and live in poverty or be involved in a petty crime where prospects – and risks – increase dramatically.
Added to this, Redemption and the rural communities past Redemption are the historic birthplace of a prominent crime family – the Wesleys.
The Town that Crime Left Behind
When the Wesley crime bosses moved out of the region two or three decades earlier, as did many businesses, it left behind a legacy of a morally corrupt environment where crime is a proud tradition. However, the Wesley name still carries a threatening tone, even if the Redemption Wesleys have little or no contact with the crime family in the big city.
Website :http://pastredemptionseries.com/
It's Time
Shot in Ethiopia and South Africa
Feature Documentary Video Production
African Women Join Hands Against Domestic Violence allows an inside glimpse into the lives of African women and girls forced to flee abuse. The video tells how a unique partnership between a Canadian agency and two African organizations is working to combat an epidemic of domestic violence.
From the dangerous streets of post-apartheid Johannesburg, South Africa, to the impoverished countryside of Ethiopia, where up to 80% of marriages result from abduction and rape, this provocative video provides insights into how domestic violence is intertwined with the history and the social and cultural fabrics of these African countries.
CIDA, the Canadian International Development Agency, and the Justice Education Society funded the project
Available for distribution from Journeyman Pictures UK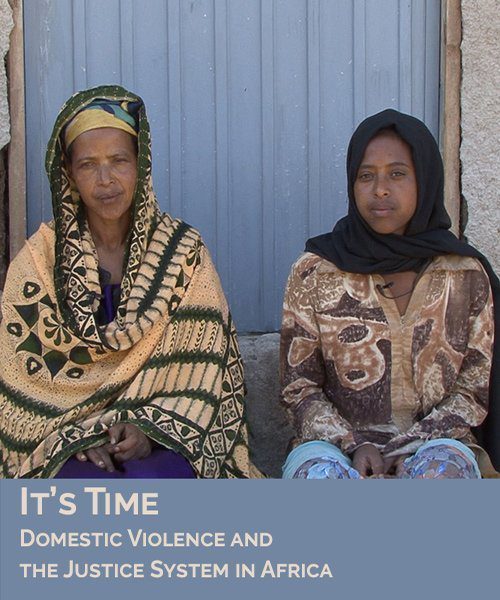 Thank you very much for your work directing It's Time.  We very much appreciate all the work you have done to make the film a success.  Reviews to date have been very positive…..
We are pleased to have worked with you on this film and appreciate the commitment that you made to the project.
Rising from the Ashes
Documentary video production: 1×30
Produced for Inter Pares
Peru's civil war killed more than 70,000 people. The brutality of the armed conflict shocked Peruvians when the truth was revealed in 2003.
But in addition, hidden from view and primarily high in the Andes, the armed conflict left hundreds of victims of sexual violence, indigenous, principally women.
Rising from the Ashes is an inspiring story of women taking on new roles in Peru and seeking a more just and peaceful society.
Terrorism Courts
More than 1,400 prisoners were held in jail for terrorism charges based primarily on false confessions. This excerpt deals with Gladys Canales, who spent eight years in prison before being found innocent and released.
Systematic Rape
The Federal army systematically raped women in Peruvian villages. One of the first rape cases to provoke national outrage after the end of the civil war was that of Georgina Gamboa.
She was raped at 16, first in her home and then at a police station in Ayacucho. Even though she identified the eleven officers and one civilian who raped her and filed formal charges, they were found not guilty.
Nevertheless, she continued to press her charges at the international level.
This video production was produced for Inter Pares in Ottawa.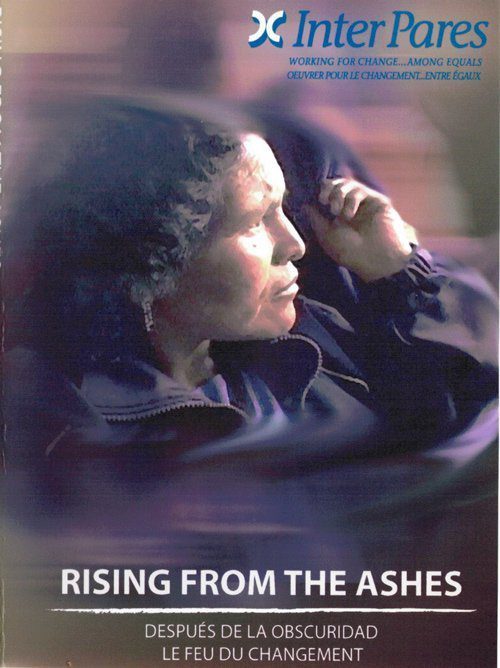 The film treats sensitive issues (sexual violence and indigenous women), and Steve's treatment (SDC) was equally sensitive….
He was also extremely competent from a project management perspective, which meant that I could focus on offering Inter Pares' input into the film's script and editing. We are very teamwork-based as an institution, which meant a lot of cooks in the kitchen, but Steve had endless patience for our many revisions and last-minute "final" changes.
The end result was a film which audiences have uniformly found very moving and a testimony to our social justice work.
Duel with the Devil
Homicide and Justice in Guatemala
Documentary: 1×60
This provocative story follows homicide detectives through the streets of Guatemala City who are attempting to improve that nation's dismal yearly rate of convictions – less than 15 out of 5,000 murders.
Guatemala is a country in the grip of perpetual violence.
Since the overthrow of the government by the CIA in the early 1950's, injustice, human rights abuses and murder have become the norm in Guatemalan society. But the level of violence has reached a level equal to the violence during the 30-year armed conflict.
In 2004, there were more than 5,300 murders but fewer than 15 convictions.
In the eyes of Guatemalans, the justice system is associated with fear, mistrust and intimidation. Now an elite group of Guatemalan prosecutors and homicide detectives are trying to change this with an assault against the cabal of evil.
Armed with forensic training from the RCMP, they are setting out to fundamentally change the judicial system.
Video Production follows RCMP
Duel With The Devil is a documentary video production that follows a special homicide task force, including members of the RCMP,  as they tackle the thousands of homicides that occur every year.
But it is also a human story about individuals who confront violence on a daily basis and risk their lives – just by seeking justice.
Duel With The Devil has access to areas rarely seen, even by Guatemalans, and we meet both victims and the perpetrators.
Festivals:
Calgary International Film Festival
Napa Sonoma Wine Country Film Festival
Vancouver: Pacific Cinematheque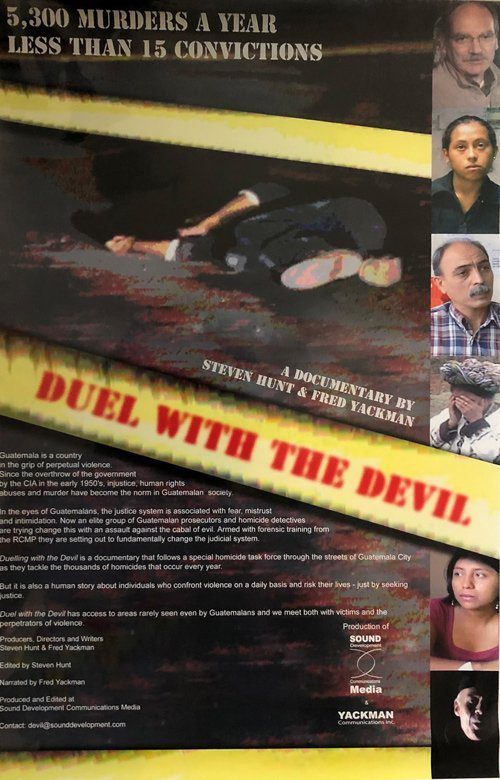 Broadcasts:
Access Alberta
AVRO Holland
AXESSTV Sweden
CourtTV Canada
Documentary Channel USA
Lanete Poland
RDI Radio-Canada Society
RTP Portugal
Festivals:
Calgary International Film Festival
Napa Sonoma Wine Country Film Festival
Vancouver: Pacific Cinematheque
Searching for Balance
Documentary: 1×60
Vision Television
Costa Rica has five percent of the world's total biodiversity, but it is being depleted as forests are being converted to farmland and other uses. This is affecting the productivity of the land as watersheds are destroyed and fragile soil is eroded.
Searching for Balance is a story of Canadian and Costa Rican cooperation to find a balance between the differing demands for the land and explore ways that wildlife and humans can co-exist.
With the support of the Canadian government, the World Wildlife Fund Canada focused on the overlap between community development and landscape conservation to help preserve the life-supporting ecosystems that nourish humans and wildlife.
Complex Reasons for Deforestation
Deforestation is often due to a complex combination of factors, including new demands on land from industrial agriculture, cattle ranching, and mining to provide for a growing population and an expanding economy.
At other times, it is an issue of rural poverty. After their land has been drained of its productive abilities because of poor farming techniques, needy families search for new, forested areas to clear.
Other issues such as illegal logging, mining and the heavy use of chemi