What is a brand video?
A brand video will be one of the most creative videos you will produce about your law firm. It's not about promotion in the traditional sense.
It is less about what you do than who you are. It's about what motivates you, what you believe in and how that relates to the type of firm you have.
An effective brand video, in the simplest of words, is one that communicates your law firm's values, what you do, and why you do it.
The overall look of the video is often cinematic or perceived as high quality to reflect on the overall quality of your firm.
What Brand Videos use to be
What do you think of when you hear the phrase "branding video?" Most likely, you think of an awkward video that's filled with stock photos and features a narrator who sounds like they're auditioning for a local theater production.
The world of branding videos is shifting—fast. In the past few years, we've seen a significant uptick in the quality and quantity of branding videos.
And with good reason. They are a great way to get your target audience to understand who you are and what differentiates your law firm from others.
That said, so many brand videos are pretty low quality. There are so many boring examples out there right now, which is why we want to provide you with ways to create one that stands out as something special.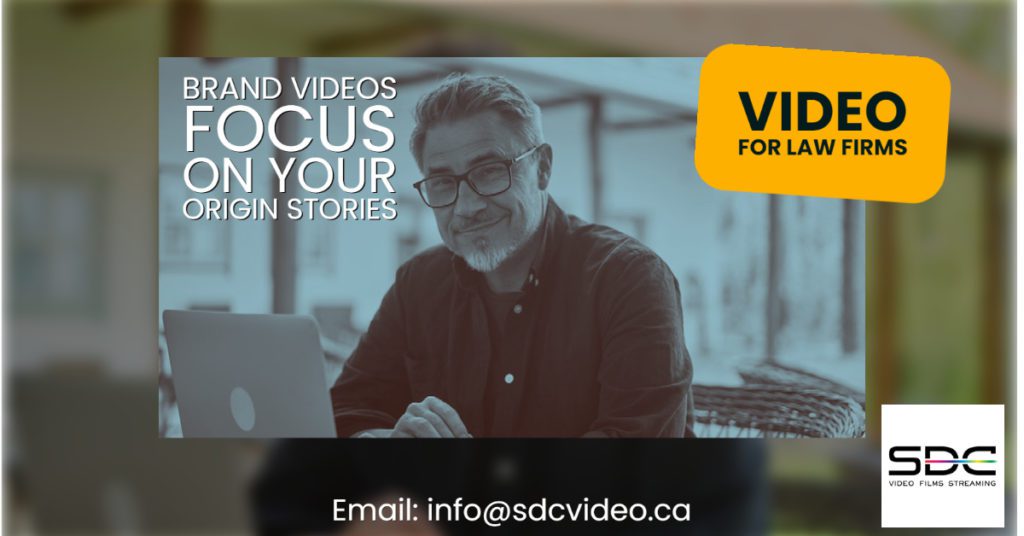 Why Brand Videos Are So Popular
Video has become the most powerful marketing tool of our time. When marketers say that video is king, they aren't exaggerating. For starters, 90% of the population can recall a video they watched in the past week.
How many of you remember seeing an article from last week? Video also has a profound effect on how people feel about your brand. If you want to build trust, inspire action, or increase your conversion rate, video is a far better investment than any other marketing tool you can use.
For all these reasons, businesses are making branding videos at a higher rate than ever before. In fact, 64% of companies produce at least one video per month.
Brand Videos are about who you are
The primary purpose of a branding video is to help your audience understand why your business exists and what unique value you provide your clients.
It should be expressed in your primary fields of expertise, such as personal injury, estate or labour to name just a few.
It should start with your brand's story, why you have chosen these fields of law and is followed by a call to action to encourage your viewers to take some sort of next step.
Because a branding video is shorter than a long-form video, you have to be very strategic in what you choose to include. If a detail doesn't help advance your story or prompt your target audience to take action, don't mention it.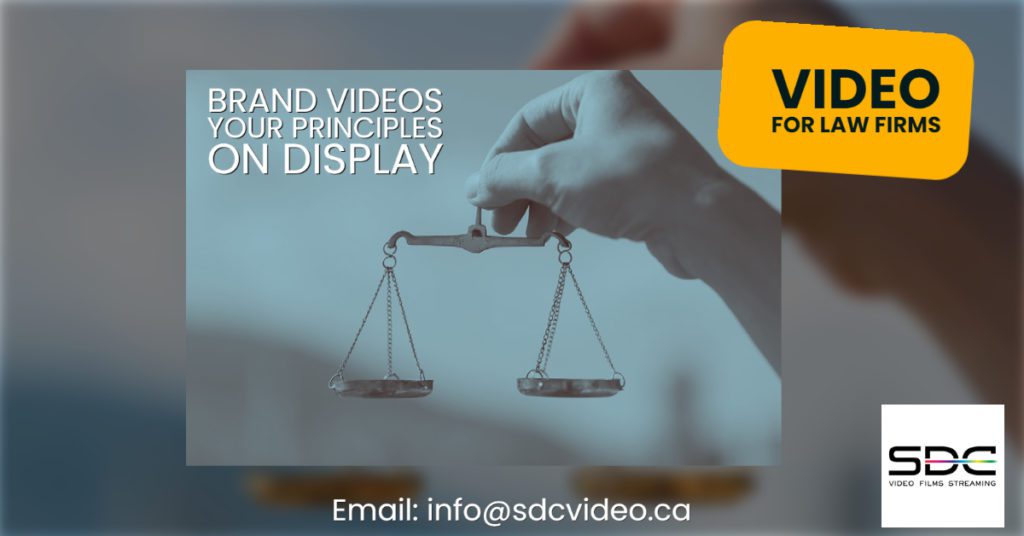 What is the Primary Purpose?
A branding video will usually sit on your website's front page. It's primarily aimed at potential clients who may be aware of your firm but are looking for reasons to take the next step.
A client with no legal experience will find it difficult to evaluate differences in services between law firms. A branding video will humanize your legal brand through emotionally-driven content and storytelling. It's a way to stand out amongst the competition.
How will your audience relate to it?
What you stand for, really resonates with an audience. For example, social responsibility of any brand has now become an important issue in the marketplace. Brands are more heavily scrutinized than they have been in the past.
In fact, according to a recent poll by Sprout Social, 70% of consumers believe that it is paramount for brands to take a stand on social and political issues. Once they trust you care, they care about you.
This is a phenomenon that is growing. Seventy-two percent of Millennials (born between 1981 and 1996) feel that it is important to buy from businesses that reflect their values.
Therefore a branding video needs to talk about who you are and what makes you – you.
How a Great Brand Video Helps Your Business
The primary benefit of a great brand video is that it helps your audience understand who you are and what you do. This is the most basic level of branding, but it's also the most essential. If your audience doesn't have a basic understanding of who you are, they'll never be able to work with you.
In addition, a well-made branding video can inspire your target audience to take action in a way that a static image or written description never could.
They can connect with you on an emotional level and find inspiration in your story.. A branding video can also increase your overall conversion rate. People who watch your video are almost twice as likely to take action than those who don't.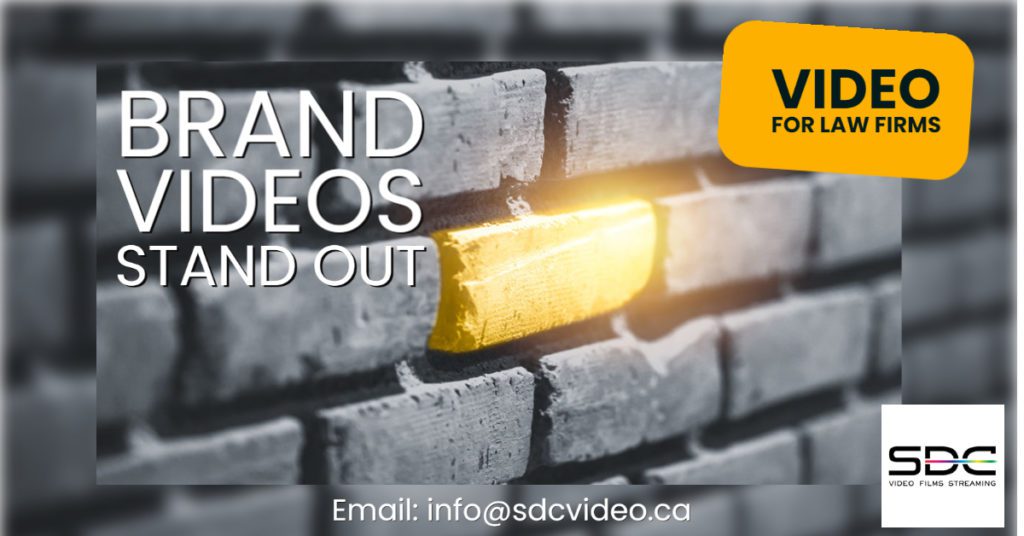 Importance of Standing Out
Branding videos have the potential to break out against all of the competition, because they are focused on basic principles, motivations and responsibility. It allows you to stand out from other law firms that may only be focused on services they provide.
This is really important considering 82% of all Internet use is related to video and there are millions of minutes of video added online each day. The distance that brands must now go in order to stand out against other law firms is greater than ever!
Another major benefit of branded videos is the fact that they are narrative driven and engaging. They are people-focused and fit into the type of film many people are looking for online
What makes a great brand video?
There are several factors that can make or break a branding video. If you want to create one that truly resonates with your audience and achieves all of your goals, you'll need to make sure you nail these.
Tone is a very important part of any branding video. It dictates how the audience feels when they watch the video and how they interpret the message. In short, how they will feel when they think about your law firm.
If you want to create an energetic, fun video, you'll need one that has an energetic, fun tone. If you want to create a somber, thoughtful video, you'll need to have a serious tone.
Production – Your production value can make or break a branding video. An investment in high quality production will make your video so much more effective than a low budget video ever could. Quality of screen reflects the quality of your law firm.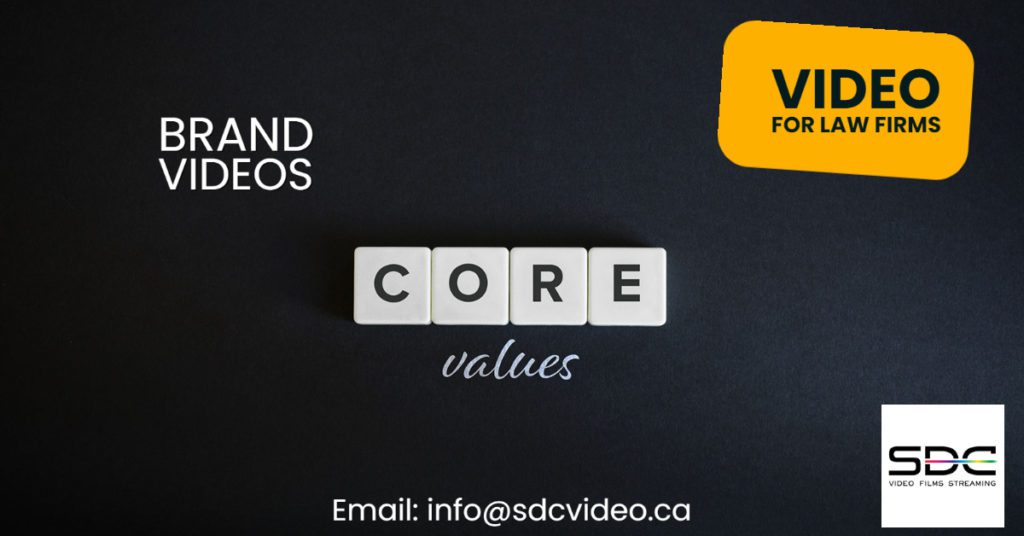 What is the typical structure of a brand video?
Key values that set you apart from the competition. These are often origin stories.
Indicators of demonstrated credibility and authority through clients you have represented.
Work life at the firm.
Key personnel and their connection to the general philosophy of the firm.
Tips for producing a great branding video
Define your target audience.
Make sure you know exactly who you want to watch your video. This is important for everything that comes next.
Know your goals
Write down the goals you want your video to accomplish. Which of your audiences do you want to reach? What do you want them to take away from the video?
Pick a style
There are so many different styles of videos you can use. You can create an educational video, a humorous video, or a serious video. You can also mix and match styles to create something unique.
Choose a location
Pick a location for your video that fits the style you've chosen. This will also help you determine what you should wear.
Write a script
Once you've chosen a style and location, it's time to start writing a script.
Script out every line you want to say word for word. This will help you edit out any extra details and make sure your video is as short as it can be.
Expense
By definition, a branding video will be one of the most expensive videos that you will produce for your law firm. Since it is narrative-driven with the look and feel of a cinematic film, there is much more production value required to create the look and feel you want that matches the overall brand.
But on the other hand, a solid branding video can have a shelf life of many years. It's a statement about your firms' values that will stand up over time.
Conclusions
Video is a powerful marketing tool, and a branding video is the best way to use it. A great branding video can inspire your audience and help them understand who you are and what you do. It can also increase your conversion rate and help you stand out from the crowd. If you want to create one, you'll need to define your target audience, know your goals, pick a style and location, write a script, and hire the right people for the roles. You'll also need to make sure you have the right tone, production value, and structure for your video.
Resources
HOW TO BUILD YOUR PERSONAL BRAND

Latest posts by Steven Hunt
(see all)